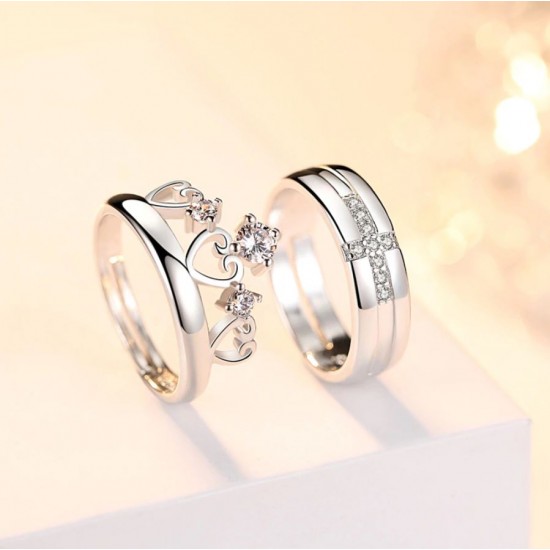 A round shaped band, worn in fingers as ornamental jewellery is called a ring. A ring is generally made of metal, but otherwise, a ring can also be made of any other hard materials such as bone, wood, stone, gemstone, plastic or glass. A ring can have an attached gemstone like ruby, emerald, sapphire or diamonds. The attached stone can also be an artificial one.
The jewellery rings are in vogue as early as the 3rd millennium BC, while Indus Valley Civilisation. Rings are worn as jewellery for many reasons, like styling, symbolic functions which mainly concerns marriage, display of wealth, for any kind of exceptional achievement, showing the high status of authority in an organisation or some cases, mythological and astrological beliefs.
Different Types of Rings
Rings are different in fashion for men and women. There are several types of rings found. They are,
• Diamond Rings: Diamond rings bear a classic depiction of engagement rings especially for women. This ring mainly displays the diamond gemstone as the centrepiece in the ornament. Diamonds used for rings possess various cuts and come in different colours.
• Gold Rings: In most cases, it is observed that gold is classically chosen for the ring ornament. Gold is available like pure gold which is yellowish, white gold or rose gold with a pinkish tinge.
• Platinum Rings: Platinum is denoted as one of the most precious metals. Hence, platinum rings therefore depict a very expensive and precious jewellery ornament. This ring is even more expensive than gold or silver.
• Wedding Bands: In most cultures, it is observed that rings are worn both by male and female. These rings are generally gold ring in Indian cultures but they can also be of other metals or materials according to the couple's wish.
• Silver Rings: Silver is a beautiful metal for an ornamental ring. Silver rings can be worn by any gender. Silver is less expensive than gold, and therefore it is mostly chosen as fashion statements.
Again any kind of rings with a greyish hue is termed a silver ring. The metal for these rings is generally a combination of steel and chromium.
• Artificial Rings: Any jewellery rings that are not made with real materials as they look like are called artificial rings. These rings are worn quite casually on any occasion, it bear the minimum risk of being lost or stolen.
Artificial Rings
Women at present time love to experiment with different contemporary styles. An artificial ring is their wisest choice to opt for. These ladies artificial ring come with a number of advantages to fashion with. Various companies in India, especially in Gujarat, manufacture a different kind of fashioning accessories for males and females, which includes artificial rings. They manufacture various trendy designs that are quite attractive.
The artificial rings can be worn by matching with a variety of outfits. These rings may or may not have stones finishing. They can be highly gorgeous or have a simpler look. Nowadays, a variety of items are available in retail shops and over the Internet. Before purchasing any item the buyer should be careful about the product and the seller.
Ladies artificial ring supplier Gujarat claims to manufacture items like artificial rings or any other ornaments with good quality materials that would not react with the skin. They also offer pocket-friendly prices that can be afforded by every sector of the customers.